There is two words to describe February "Doctor's Appointments"  In the month of February we have anywhere from 1-3 doctors appointments a WEEK!  It has been borderline ridiculous. We are very blessed to have healthy kids but sometimes when it rains it pours. So February it just poured Doctor's Appointments for us! Five of them were either well check-ups (W&C), head check-up, heart check-up, and ENT (I will get to that one later).  The others have been Cailyn's ear infection.  When the front lady at the doctor's office knows your name it is not cool!!
If you recall we had lots of doctor's visits from Wesley's head concussion.  Then we had his well check-up and he failed his hearing test in his right ear.  Went to the ENT last Monday the boy has PERFECT hearing.  Great news.
While we were there I asked the doctor to look at Cailyn's ear because she was pulling on it.  He pulled out a bunch of wax but  he said it was not infected just red.  Fast forward 2 days Cailyn was sick with a 101 fever and I took her to the doctor's.  Sure enough right ear had an infection..  Go home with Amoxicillin and was confident she would be better by Friday.  Friday I was suppose to fly out of town to meet up with Collins for a work function.  Friday morning Cailyn wakes up and it is clear she is very sick still. I took her back to the doctor's office (but still had my bags packed for my trip)   Look at my baby at the doctor's office.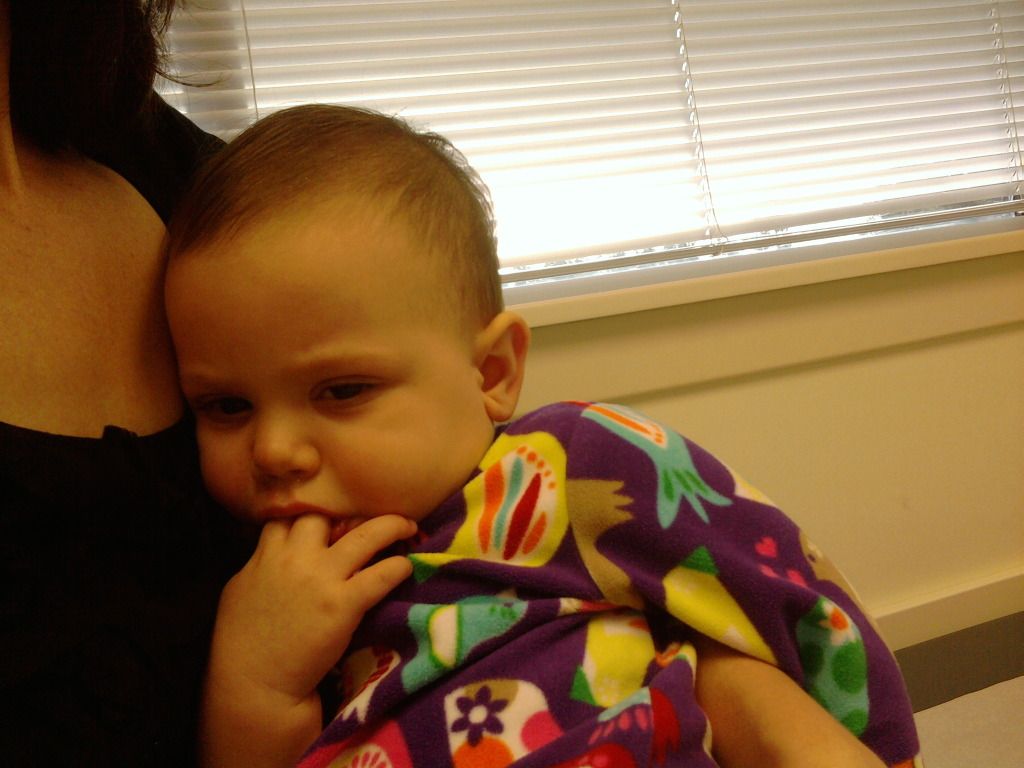 They told me she now had a double ear infection and was a very sick little girl and really without them saying much more I decided to cancel my trip. There was no way I could leave my sick little girl.  I wouldn't be able to live with myself!!  We were put on a new antibiotic called Sulprax and thought surely my baby would be great by Saturday.  NOPE.  She ran a 101-103 fever up until Monday.  I don't think there is any worse feeling then knowing you can not do anything more for your kids (like take their place). By Monday night I was happy to see Cailyn making dramatic improvements!!
Remember me wishing I could take her place….well, it happened.  I am sick now!  I probably should go to the doctors but I would like ONE week off.  Next week we start off again with dentist appointments, ear check-up, Early Prevention (will talk about that more later) so maybe if I am still sick next week I will go.
Other then the sick bug going through our house we are all good.
I do have to share one sweet thing about Lawson.  I was feeling horrible on Monday and Lawson was amazing that morning she fixed breakfast for her and Wesley, got them both dressed, and then removed the sheets off her bed (Monday is sheet day).  When I told her thank you she said "I know you don't feel good, is there anything else I can do to help?" I am such a lucky mom!